TERA proves it's not just another WoW clone
Posted 05/12/2011 - 1:46pm GMT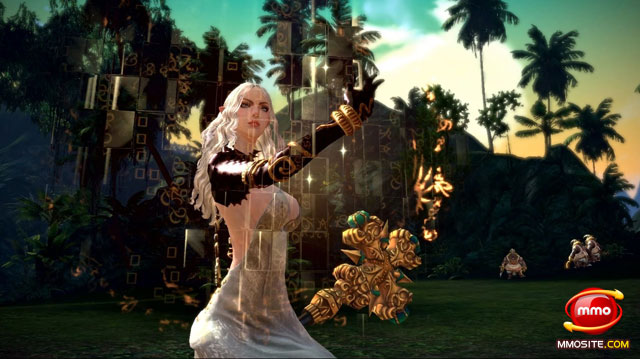 Upcoming MMO TERA is scheduled to launch next year, and we get the chance to speak with Stephan Krippendorf, producer for TERA Europe, about how it's evolving the combat of MMOs.
Q: Could you introduce TERA to anyone who may not be aware of it?Stephan Krippendorf:
TERA is an action MMORPG from developers Bluehole Studio, set to be released in Spring 2012. Unlike your more traditional MMO game, TERA's combat is in real time. That means that you actively move around the battlefield to take down your enemies. To survive you need to string together combos, dodge your opponent's attacks and really think on your feet. On top of that, it also uses the Unreal 3 Engine, so it's pretty to boot!
Q: Why do you think it's so rare to see complex combat systems – even the inclusion of dodging – in MMOs?SK:
With the amount of players present online, making an MMO 'work' in real time is an incredibly difficult task. You have to have some pretty smart net code behind the scenes to reduce the latency to an extent where it works. The team at Bluehole Studio spent a lot of time to get it right, and we're happy to say the gameplay experience represents that; it's smooth and tactile. As to why there aren't more MMOs out there that make use of real time combat? I think it's just a monumental challenge, and given the success of your more traditional, almost turn-based combat, I think that route is chosen because it's a tried and tested gameplay mechanic that's worked in other MMOs. Having said that, I think a lot of players feel it's time to break away from that and experience something new.
Q: Do you think the lack of a lock-on system when fighting enemies could seem counter-intuitive for players?SK:
Not particularly, I think it just teaches different skills. As I said before, we could have gone down that typical combat route. Players would have started the game, felt very at home with the combat, and then realise that they've played this game before. Instead we went for something different, something that should excite players. The real time nature of the game brings another kind of immersion, another level of tension. A highly skilled player can beat a higher level character if they're quick enough, so that by itself sets TERA apart.
Q: It's possible to play this with a gamepad. Is there any desire to bring the game to console?SK:
You can play TERA with any USB controller, but at the moment there are no plans to bring it to the console, when we consider the one of major feature of MMO is 'massively' and the limitation of console at that point. But the controller works really well for the combat side of the game, so if you use a controller and a keyboard you have a great way to play the game.
Q: There are no pre-determined factions in this game. Can you describe what exists instead?SK:
There are no factions but the end-game content is run by the guilds through the political system (see below). There are rivalries within the game's races, but as they've had to join forces to fight off a common enemy, there won't be much in-fighting. Still, as you'll see from the game, some races aren't too fond of one another.
Q: Players will be able to direct what happens in the world through a political system. How does this work?SK:
In TERA, everything is determined by the players themselves. The world revolves around the political system which is run by the guilds, and the lords, known as Vanarchs, can set rules for their territories such as tax rates, monster spawn rates, and much more. There are currently 19 regions to be ruled on both continents, and the candidates can be elected either through votes from the other players, or directly on the battlefield. It's a great feature that we expect to flourish when the game goes live. We're sure lot's of rivalries will emerge!
Q: David Noonan has been brought on as lead writer. How important is story to TERA?SK:
The story of TERA is player-driven, featuring multiple cinematics involving your character throughout the game, and revolves around a world in conflict when races must unite in order to defeat a common threat. Thanks to the En Masse writing team the quest texts emphasise immersion and don't just revolve around the common "there are 10 rats over there, go kill them for the sake of the world" type quests. Aside from the main storyline, there are different types of quests which involve all sorts of characters and bring an added level of depth to the storytelling.
We know how much story matters to players, so there's been a lot of effort focused on this side of TERA. We think players will really get into all the lore that's available in the game.
Q: You're adapting TERA for a Western audience now. How much of the game is being changed to fit a Western gamer's palate?SK:
We're always collecting feedback from the players and media about how the game handles and feels. The North American publisher, En Masse Entertainment is also handing the English language adaption which will focus on elements such as story to make European players feel at home.
Q: What is available for max level players?SK:
The political system, the challenging end-game dungeons feature a hardcore mode and require extreme team play abilities, the battlegrounds as well as the upcoming feature allowing wars between opposing guilds. If you happen to like achievements, you have a ton of challenging achievements to obtain even after your character gets to the maximum level! And of course the list is always growing, so you can expect even more features when the games launches next year and beyond where there'll also be new content added periodically.
Q: Do you think with WoW's subscription numbers dropping this is the best time for a new IP to enter the market?SK:
I think the MMO market is always very competitive. Free to play titles are growing in quality, and you need more and more to set yourself apart in the market. I think TERA has what it takes to be a huge success though, regardless of WoW numbers. The real time combat is the best I've ever played in an MMO, or any other game for that matter. The story is engaging, there'll be a lot of content for high level players, the political system has a lot of depth... there's a lot here to appeal to a huge range of players.
If we had simply cloned a successful MMO, I think we'd have a battle on our hands, but we didn't. All I can say to players is that when you dive into the game for the first time, swing a sword, cast a spell, dodge and weave in combat, you'll be hooked. You'll realise that, 'Ok, this is different. This is what I've been waiting for'.
Admin




Mensagens

: 122


Data de inscrição

: 15/06/2008



---
Permissão deste fórum:
Você
não pode
responder aos tópicos neste fórum