Therefore, one should visit the Guild Manager in Velika.
The conditions for the creation of a guild are:
1. 3,000 Gold
2. You have to be in a group (min. 2 people)
3. Your character must be a minimum of level 8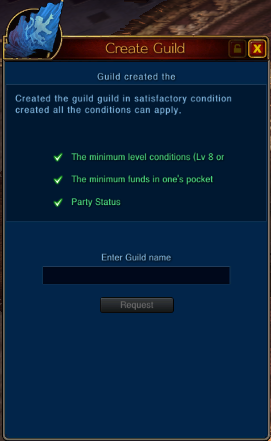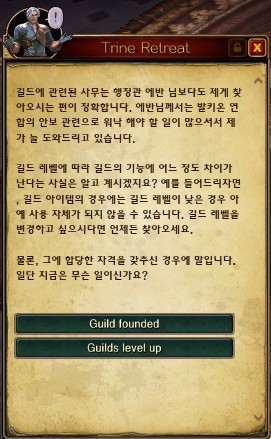 Once the guild creation window is open, you should enter the name of the guild and click on Request.
Then another window appears.
Here you should click the first button and you have formed a Level 1 guild. This NPC can also be used later to update the guild to Level 2.
To upgrade a guild to level 2, one needs 20 Valkion medals. These are typically available from repeatable quests from the woodcutter camp.
You can obtain guild buffs and the ability to teleport directly to the guild house, no matter where you are located. One has to acquire guild housing later in the game. Guild houses can be found on the left side of the map (yellow building) There are about 54 ?guild houses per city.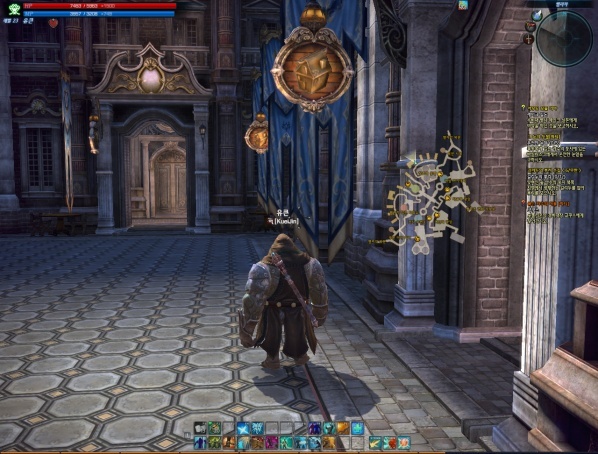 In addition to the Guild Manager you need to find another NPC. This NPC is in charge of the guild logo. Guild logos must be uploaded in tga or bmp file extensions and the size is limited to 64x64 pixels (24bit).
Here you can see where you should save the guild logo.
Then you will see a screen similar to the one below. You now click the right button and your guild logo will be applied.
Admin




Mensagens

: 122


Data de inscrição

: 15/06/2008



---
Permissão deste fórum:
Você
não pode
responder aos tópicos neste fórum